Friends of Bonners (FOBs)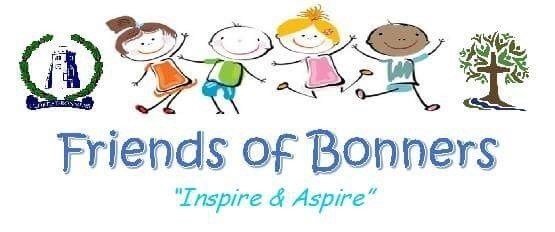 Friends of Bonners is a voluntary group run by parents and carers in partnership with the school. The aim is to raise funds to provide extra equipment & supplies for the pupils at the School. We are an active PTA which holds regular events throughout the year. All parents by default belong to the PTA, run by a committee of parents in partnership with the school.

Our main fundraisers are the Christmas Fayre and Summer Party, but also hold other events such as film nights for the children, cake and lolly sales after school, second hand uniform sales, quiz nights to name a few....New Ideas are always welcome!!

The money we raise is a valuable source of extra income to the school enabling us to provide additional resource for the benefit of all our children.

Larger projects we are currently working towards are:
Re-new playground markings
Renewal of all ICT equipment & Software
Re-Developing our library
Outdoor Classroom

However, we also help towards much needed basic stationary, school trips and fun events for children too!
Committee Members
| | | |
| --- | --- | --- |
| | | |
| Zoe Ferguson, Chair | Gayle Budgen, Secretary | Mark Budgen, Treasurer |
We are always looking for new members, volunteers for events…getting involved can be lots of fun, rewarding and sociable all at the same time! Friends of Bonners would love you to join us and help run these events successfully! Any help is very much appreciated.

If you are interested in finding out more email us at: fobs@bonners.e-sussex.sch.uk
See also our new ongoing initiatives 'Easy Fundraising' and 'Stamptastic' below!

Do you shop online with companies like Amazon, Tesco, Argos, eBay, John Lewis, Booking.com?
Please help support Bonners by using 'easy fundraising' to shop with over 3,600 retailers!
Every time you shop, you'll raise a free donation for FOBS Bonners, Uckfield every time, it's that easy!
Find out more, use the link here, create a login and then shop as normal with your chosen retailer: https://www.easyfundraising.org.uk/causes/fobsbonners/
Please help support FOBS Bonners, Uckfield by shopping online.
------------------------------------------------------------------------------------
STAMPTASTIC!!
Do you struggle labelling up your child's clothing? Iron on labels falling off or written names disappearing in the wash?
Fear not…..Stamptastic is here!! This is the best alternative to sew in or iron on labels.
A personalised stamp usable on most fabrics, metal, wood and some plastics….so you can just stamp everything!
Transparent block for accurate and easy positioning! You can even add a little icon to make it special for your child!
Login and buy via this link: https://stamptastic.co.uk/pages/school-welcome#a_aid=5b156cda6db81 and Bonners FOBS receive 20% of your order as a thank you! Fundraising at its easiest!
Thank you for your support!